Planning to sell or give away your Windows Phone 8 device to someone? You should ensure that all your personal data is securely wiped from the device. We've covered how to do this on iOS and Android before.
In both articles, we have emphasized that your data should be encrypted before it is deleted. This makes it harder for others to access your data after you delete it. While encryption is supported on both Android and iOS, Windows Phone 8 does not. This doesn't mean your data on Windows Phone 8 is completely unprotected, it just means that someone determined enough might be able to rescue some of your personal data from your phone.
Before we start securely erasing your personal data, let's see how to create a backup on Windows Phone 8.
How to save data in the cloud
1. If you have an Internet connection, Windows Phone 8 lets you save backups online. For this, you need a Microsoft account. If you've been using a Windows Phone 8 device, you should have created it during setup or downloading the app, so this shouldn't be a problem.
2. You will also need a OneDrive account to save photos and videos. You can create this account by visiting onedrive.com or downloading the app.
3. To back up your settings, Internet Explorer favorites, and list of installed applications, go to Settings > Backup > App List + Settings > Backup > On. Click Back Up Now to start the backup immediately.
4. To back up your text messages, go to Settings > Backup > SMS > SMS Backup > On.
5. To save your photos and videos, go to Settings > Backup > Photos. Under two subheadings – photo and video – Choose Premium or Best Quality. Photos will be backed up in good quality on your cellular internet connection, but best quality photos and all videos require WiFi to upload.
How to save data on PC
1. If you prefer local backup, you can copy-paste the data manually. This method does not save text messages or app data or settings.
2. Plug the phone into the PC.go my computer (Windows key + E), the device will appear as a removable drive, titled windows phone. to open, double-click Telephone And copy pictures, music, ringtones and videos from their respective folders.
How to securely wipe data
If you lock your phone with a passcode, it can't be unlocked by anyone who doesn't know the passcode. If someone tries to access your data, they will have to reset the phone to factory settings – which will delete all your personal content. You can also manually wipe all data by resetting your phone. While this deletes all files, someone can still recover deleted files. With just a few simple steps, you can prevent this from happening too.
1. Go to Settings > About > Reset your cellphone.tap Yes Start the process twice.
2. Once the process is complete, connect your phone to your PC and open it through My Computer as described earlier.when you double click windows phoneyou will see an empty drive label Telephone This will display the amount of free space on the device.
3. Copy large files such as HD movies and fill up the phone's internal storage space. This is similar to copying files to a pen drive.
4. Once the phone is completely filled, delete these files. Repeat this a few times to give yourself greater protection against someone recovering deleted data, such as photos, from your phone.
5. If your phone has a microSD card, repeat steps 3 and 4 for the card.when you double click windows phone As described in step 3, the microSD card will appear as a separate drive, labeled SD card.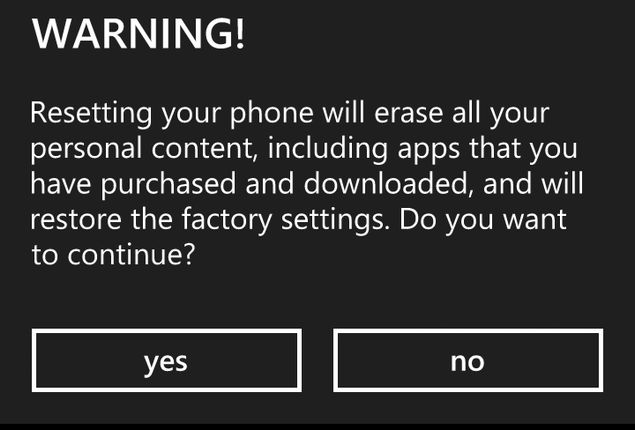 How to recover your data
To restore photos, app settings, and other files backed up to the cloud, you'll need to do the following:
1. Start your recently wiped or new Windows Phone device. Sign in with your Microsoft account.
2. Wait a while for your Microsoft account data to sync with the device.
3. You will be prompted to restore your phone and display a list of available backups.Select the backup you want and click Next.
4. Enter the security code, and then tap Next.
5. Now wait for the restore to complete.tap Next.
6. You will be asked to enter your email and social account passwords.tap jump over (you can do this later), then click complete.
7. To find your saved photos and videos, just open the OneDrive app and sign in.
Transferring media files from the PC back to the phone is also simple:
1. Connect your phone to your PC via a USB cable.
2. Go to My Computer on your PC, open the Windows Phone drive as before, and copy the various media files you have backed up.
This should securely wipe your data on Windows Phone. Were you able to follow these instructions to delete all data on your Windows Phone 8 device, or are we missing something? Let us know via comments.
For more tutorials, visit our how-to section.