Now that Apple has announced the iPhone 6 and iPhone 6 Plus, many of you may be looking to upgrade. This means that some of you may want to sell your old iPhone, which leaves us with the unavoidable task of ensuring that your data is safely removed from the device. You don't want strangers accessing your data. To avoid all the hassle, here's a guide to help you safely delete all data from your iPhone.
According to Apple, all iPhones starting with the iPhone 3GS come with hardware encryption, so if someone tries to use data recovery software on your iPhone, your information is still safe. According to Apple, all you need to do to completely delete your data is to use their wipe function. To do this, you need to enable a password. To do this, you need to perform the following steps:
1. On your iPhone, go to Settings > Passcode.
2. Click Open Password.
3. You will be asked to enter your password and then re-enter it for verification. That's it, the password is enabled.
4. The last line of the page should read "Data Protection Enabled".
After that, you can delete all data. Here's what you need to know:
Create backup
Before wiping data, make sure to backup your iPhone to avoid data loss when changing phones.
Just go to Settings > iCloud > Storage & Backup.
Turn on the switch labeled iCloud Backup. You'll get a warning that your iPhone won't automatically back up to your computer. Click OK.
An iCloud backup is turned on, click Back Up Now. This will start backing up your data to iCloud.
Note that if you use an iCloud backup, anything you delete manually will also be deleted from the backup. Don't manually delete phone numbers, photos, etc. unless you don't want to restore them on a new device​​.
If you don't want to use iCloud, or your Internet upload speeds are slow, you can also use iTunes to back up your data. First, connect your iPhone to the computer. iTunes also backs up any apps you download and the data in those apps. iCloud provides up to 5GB of free space, and you will be charged for the excess. Therefore, if you have a lot of data on your iPhone, it is better to use iTunes backup as it is free and does not require internet.
Open iTunes. Click iPhone in the upper right corner, next to iTunes.
Under Automatic backups, check Encrypt iPhone backups. Now set a password for your iTunes backup. We recommend this as your iPhone backup may contain sensitive data that you may not want others to see, such as passwords and personal content. If this option is enabled, you must enter a password if you want to restore a backup from iTunes. This prevents your data from being accessed without authorization.
Under Manual Backup and Restore, click Back Up Now to start backing up your iPhone. This process takes some time, especially if you are backing up your data for the first time. Make sure you have free time before doing this. The first backup took us over 40 minutes.
After backing up your default app's essential data, iTunes will ask you if you want to transfer your purchases. This basically backs up all the apps installed on your phone, as well as the data downloaded in those apps. To do this, you must log in with your Apple ID. We backed up 97 applications in this way, and almost all of them retained a saved copy of their data when restored. A podcast app cannot save downloaded podcasts and the email app needs to be re-authenticated. Other than that, the backup saves everything, including unread notifications.
If the iPhone is with you
Once the backup is complete, you can delete the data.
Go to Settings > General > Reset.
On this page, you will see options to reset various saved data. To delete all content, click Delete all content and settings.
You will be prompted for a password. If your phone has a restrictions passcode, which blocks certain websites and content, you must also enter that passcode.
After this, you will see a warning telling you that this will delete all media and data. Double tap the Erase button.
After this, you will have to enter your Apple ID password. This step only applies if you have the Find My iPhone service enabled. This is an effective anti-theft measure. After you provide the passcode, your iPhone will be erased and the next owner can activate the phone with his or her Apple ID.
Once you get a new iPhone, you can quickly restore your backup by choosing "Restore from iCloud Backup" or "Restore from iTunes Backup" instead of "Set Up as New iPhone".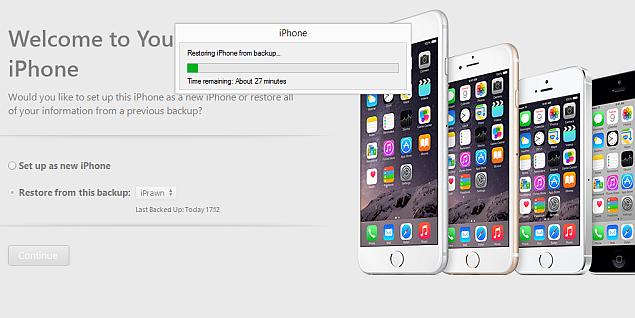 If the iPhone is not with you
If you lose your phone and want to wipe it to keep your data safe, you can use the Find My iPhone service. It's free and ideally you should always activate it.
The first step is to make sure the service is now on your device. On iPhone, go to Settings > iCloud.
This is useful if you lose your phone or sell it without remembering to wipe all your data. Assuming you have this service enabled, deleting everything is simple. First, log in to iCloud with your Apple ID.
Click All Devices at the top and select your iPhone from the list of devices.
Select Erase iPhone from the pop-up box in the upper right corner > click Erase in the next pop-up.
After clicking Erase, a new button pops up labeled Remove from Account. Clicking this button will disassociate the phone from your account and prevent the next owner from accessing your data.
If you sold your iPhone without erasing your data, and Find My iPhone isn't enabled on your phone, the best thing you can do is change the password for your Apple ID. This won't prevent the next owner from accessing data already stored on the device, but it will ensure they can't delete data from your iCloud account. Here's how to change your Apple ID password.
Visit the Apple website. Enter your Apple ID and click Next.
You can now choose email authentication or answer a security question to change your password. Choose your preferred method and click Next.
You will be asked to verify your date of birth before continuing. Fill in the details and click Next.
Answer the security question and click Next, or click the link sent to your registered email address.
Now you can enter your new Apple ID password, enter it again, and click Reset Password.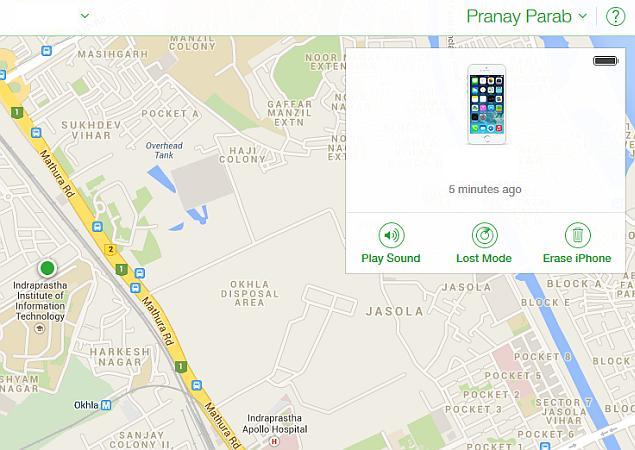 After wiping your iPhone, you don't need to worry about data theft. Apple uses hardware encryption on every iPhone to ensure that even if someone tries to recover data from your iPhone, they can't do it.
We hope you found this tutorial useful. For more such tutorials, visit our "How To" section.